Saltwell Harriers meet two days a week (Tuesdays and Thursdays) for training. All sessions are led by qualified running coaches.
Training sessions begin and end at the Gateshead Leisure Centre on Alexandra Road.
Saltwell Harrier membership covers all levels of running from casual joggers, fun runners, charity runners, park runners, 10k, half and full marathons and lets not forget fell running!
You name it, we probably have members who do your kind of running.
If you are interested in joining the club please let us know and we'll get right back to you.
Why become a member?
Biweekly training by qualified coaches, to improve runners of all abilities;
Safety in numbers, it's dark during winter time. Safer on the roads, cars can see a larger group of runners;
Receive great advice from like minded people on kit, races, health and more;
Social, you can just run or chat, it's your choice;
Discounted entry into major races, better chances of entry into some.
Membership Costs
New Members:
Joining between Oct and Mar: £50.00
Joining between Apr and Sept: £25.00
Existing Members:
 £35 per year (renews in September)
Club vests cost £20 and are not included in membership fees. Vests are required to compete in some races.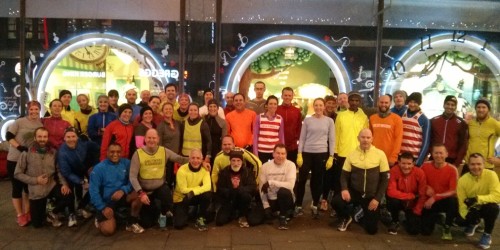 Try us out
Why not come along to a few training sessions before you consider joining long term? Just let us know, using the form below.
Training Sessions
The qualified club coaches lead groups through a series of running activities aimed at improving overall stamina, strength and speed.
On Tuesday evenings, runners are placed into one of five ability-appropriate groups. On Thursday evenings, runners are in a single mixed-ability, working together.
Tuesday and Thursday evening sessions begin at 7pm at Gateshead Leisure Centre and last for one hour.
Example Sessions
Training runs are varied and can follow some of those listed below, and more;
Run to The Angel of The North (6 miles approx);
To Newcastle Quayside and back;
Loops around various parts of Saltwell Park;
Gateshead Team Valley and back;
Hill work in nearby areas;
Occasional timed sessions, such as a 5k race.