This post is part of a series reliving the highs and lows of Rob Brooks' epic adventure on the 2022 Winter Spine Race.
---
Alston to Bellingham, 43 miles (arrive 8pm, depart 3am)
Both my achilles had been sore during the previous section but upon leaving the hostel I found it almost impossible to walk they were that sore, especially the right one. A combination of slow shuffling/limping and propelling myself with my poles ensued for a mile or so until they had loosened up to the point that I could just about walk normally again.
A familiar pattern was now forming :
Enter a farmers field and attempt to locate a path
Swear
Fail path finding task and set off in a random direction hoping to be the right way
Swear
Fall over into a hole or waterlogged/boggy quagmire
Swear
Reach a wall/fence and blindly stumble up and down it attempting to locate a style or gate (sometimes having to retrace your steps after realising you have stumbled into the wrong field)
Swear
Repeat for hours on end
I have a friend Natasha who has a holiday home in Slaggyford and always gives support to the Spine racers (she's known as the Angel of Slaggyford), but unfortunately it was very early morning as I passed though so I wasn't expecting to see her.
It began to get light as I reached the abode of Rastaman Ralph. Anyone who has done the Spine or Pennine Way will recognise this residence and possibly had the pleasure of meeting its proprietor. It is just before you climb onto the quagmire that is Blenkinsopp Common.
It feels like something has gone badly wrong here. There is junk and rubbish scattered all over the yard, and few downbeaten caravans and chickens roaming everywhere.
The last time I'd been through here was during the night with Mark during a Spine training run a few years ago. We were greeted by the Rasta smoking a joint and slurping from a can of Stella who proceeded to show us some videos from his Youtube channel in which he surprises various Spine racers and interviews them. It was a true Deliverance moment and we weren't sure if we were going to escape with our lives.
Here is a gem from the previous summers race.
Sadly the Rasta didn't make an appearance today, I could have done with the distraction. The only sign of life being the chickens.
I made a brief stop at Greenhead for some food and a hot drink before setting off up the much nicer Hadrian's Wall section. Here I met Nuno Santos, a Portuguese runner who was suffering badly with feet issues and Nigel Martin, a local runner from Hexham.
This was by far the most populated section of the race route so far and on a number of occasions random people would give me encouragement and call me by my name, obviously following the live race tracking.
I checked the tracker and saw that Mark had finished in joint 4th place. I always knew he would do well in the race and I was so happy for him – I was looking forward to catching up with him afterwards and trading war stories.
I really enjoyed this section and near the end of it I was ecstatic to see my good friend Andy Higgins who had taken a break from work to come up and given me some encouragement. We walked for a short time around Housteads before he attempted to make the return journey of 45 minutes in 40.
---
---
Because of the damage caused by Storm Arwen there was a diversion which added around another 5 miles to the section and took the route through some particularly "challenging" sections i.e. shoe sucking soulless mud which didn't quite match the GPS track we had been given further adding to the misery.
Seeing Andy had given me a massive boost, but for some reason I was now going through a massive low which I couldn't really attribute a reason why. I was tired but no more so that I'd been in the previous section, I was just really struggling mentally.
The diversion reconverged with the Pennine Way just before Horneystead Farm – another Spine institution where the proprietor has kindly set aside an area in one of the barns with refreshments. I made full use of the facilities, having a cup of tea and some delicious soup.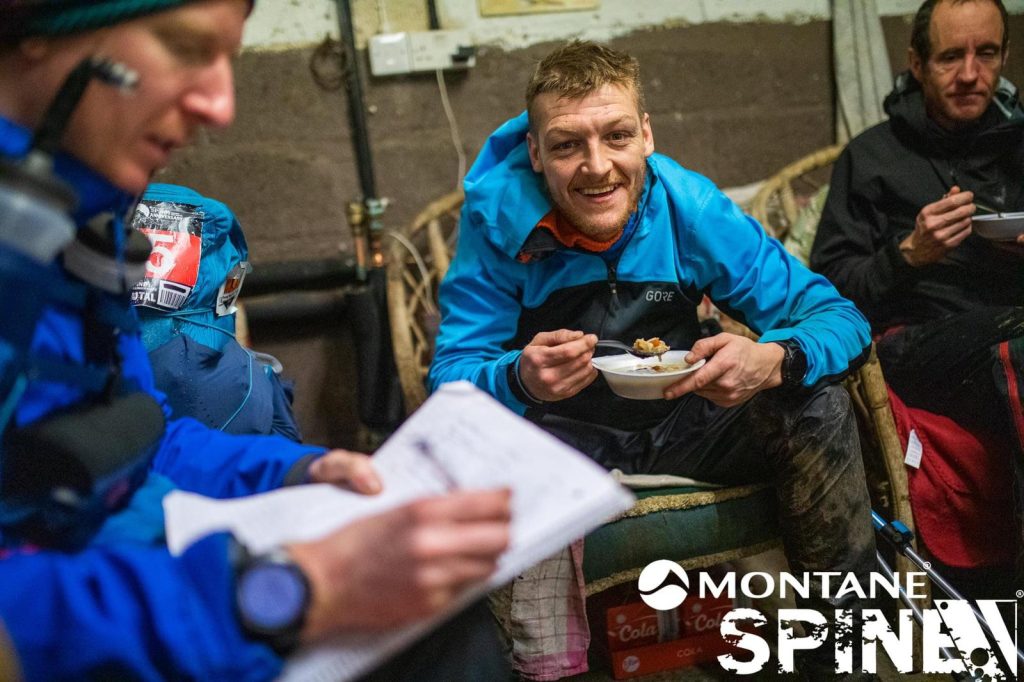 Martin arrived at Horneystead with anther runner Christopher Cowley. I recognised him from previous checkpoints and places along the trail and we chatted briefly for a few miles.
He seemed like a really decent lad. In fact all of the people I chatted to during the race either fellow competitors, volunteers, medical staff were all really nice people. That's what I love about the ultra running community – there's no ego's, no trying to get one up in each other – everyone is in it together having the same shared goal of trying to make it to the end and support each other any way they can.
I arrived in Bellingham some 5 miles later in good spirits. Martin, Chris, Mark and a few others were pushing on to Kirk Yetholm without sleeping. I briefly considered this before discounting it. I felt like I could have continued if I'd wanted to but what was to be gained? Finishing a few places higher and a number of hours more quickly but at this point in time this wasn't important to me. I wanted to enjoy the last section over the Cheviots and finish in daylight so I decided to sleep in Bellingham. After the usual faffing and eating, I bade them farewell and good luck.