This post is part of a series reliving the highs and lows of Rob Brooks' epic adventure on the 2022 Winter Spine Race.
---
I've known about the Spine Race for a very long time now and have spent countless years watching the steady progress of dots moving northwards over the course of a week in January.
It's always been a race that has terrified me.
The route follows the 268 miles of the Pennine Way over generally high exposed ground from Edale in the Peak District to Kirk Yetholm in the Scottish borders with few opportunities for shelter.
Couple this with sleep deprivation, poor weather and storms, saturated or frozen ground conditions limited daylight (~8 hours), blisters + other feet related issues, and your body generally breaking down over the course of potentially 7 days (the race cut-off) makes it a brutally unforgiving race.
What sets the Spine apart from other ultras is that it requires expedition skills. You need to be self sufficient and carry all the gear you need throughout the race including sleeping bag, mat, bivvy bag, stove and a plethora of other equipment to ensure that you are able to survive in the harshest of conditions for long periods of time.
As with many of these events it slowly worked its way into my psyche and I went from never wanting to do it, thinking that maybe I could do it to becoming obsessed by it.
I originally made the decision to enter back in the summer of 2019 however I was placed onto a waiting list as the race was full. In October I was offered a place on the way to the OMM which I snapped up. Unfortunately, in the week preceding the race I was diagnosed with Parsonage Turner Syndrome, a rare condition which attacks the nervous system of the neck and shoulder and reluctantly I had to withdraw from the race.
I entered the 2021 race; however, this was cancelled because of the covid pandemic so I deferred to the following year.
Although I had a decent build up to the race I fell ill with cold and a chest infection on Boxing Day. It became steadily worse to the extent that I was coughing up blood and had cracked or bruised my ribs coughing so much which made further coughing excruciatingly painful. A chest x-ray thankfully came up clear but up to the day before the race I was having to use a pillow against my chest when coughing to reduce the intensity of the pain.
I had serious doubts whether I was going to be able to complete the race, but I thought at a minimum I'd at least start it – a decision I left until the last minute. My original plan of being competitive was out of the window. My aim now was simply to complete the race so I decided not to run at all, and to spend the maximum amount of time allowed (8 hours) at each checkpoint to try and get as much recovery as I could.
The day before
My friend Mark Clarkson was also competing having volunteered the previous year to get a flavour of the race. We had done a lot of training together and endlessly discussed race strategies and kit choices and had arranged to travel down together with Mark's friends Claire and Sarth who would then drive Mark's car back to Newcastle.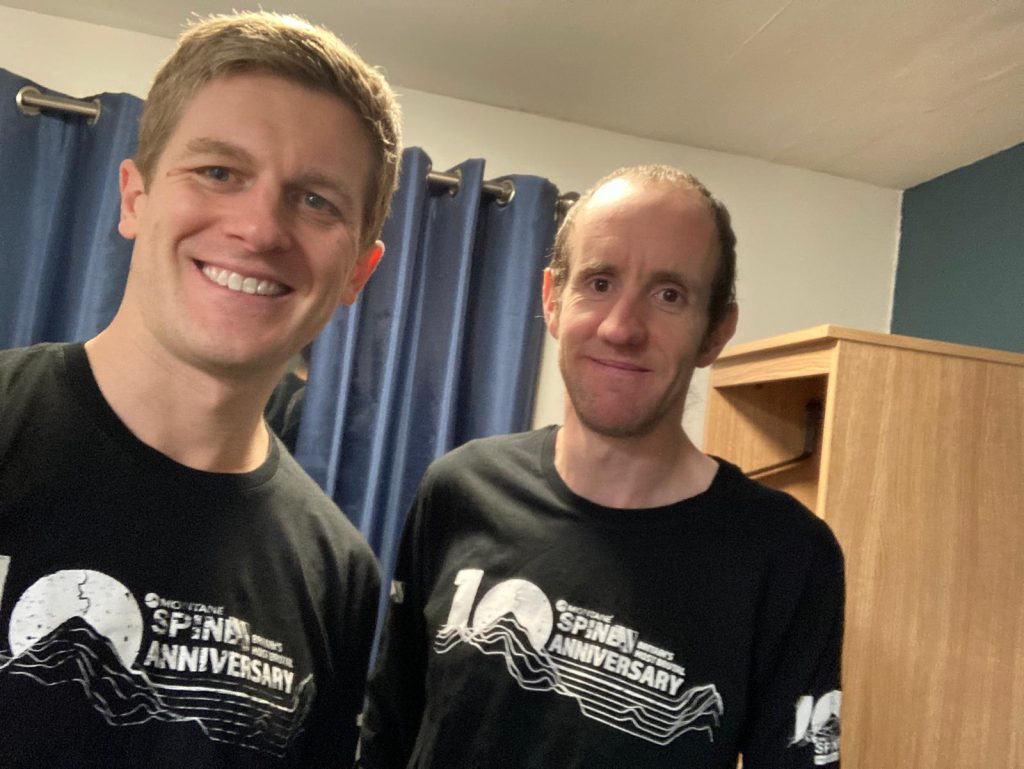 Another friend Mark Smith and fellow Saltwell Harrier Richard Townsend were also competing, so I was in good company.
I'd had a conversation with Mark the night before. How heavy is your drop bag he asked after informing me his just scraped under 20kg. Mine was 12kg (a 70L OMM duffle). This set me off thinking about what I had forgot to pack and Mark thinking about what he packed that he didn't need.
The Spine Challenger (a shorter race from Edale to Hawes) had started earlier in the morning and the day was spent dot watching – my friend Darren Greasley who I had met and shared a tent with in the Dragons Back race last September was in 2nd place, which he managed to hold till the end – what a fantastic achievement.
After registering we drove back to Castleton YHA where we retired for the last night of uninterrupted sleep for potentially a week (and of course performed some pre-race faffing).