Whilst receeing the Wasdale to Honister section of the Bob Graham round I took a breather on the summit of Pillar. Like previous reconnaissance of the round, it was a fine day. I surveyed the surrounding peaks, and way in the distance Blencathra, forming its own massif, brought an intriguing question to myself, "Keith, do you realise how far away Blencathra is, never mind the distance that forms the circular route of the Bob Graham round." Fortunately, it was the reconnaissances onto the fells that strengthened the inspiration I had found from assisting on an attempt the previous summer.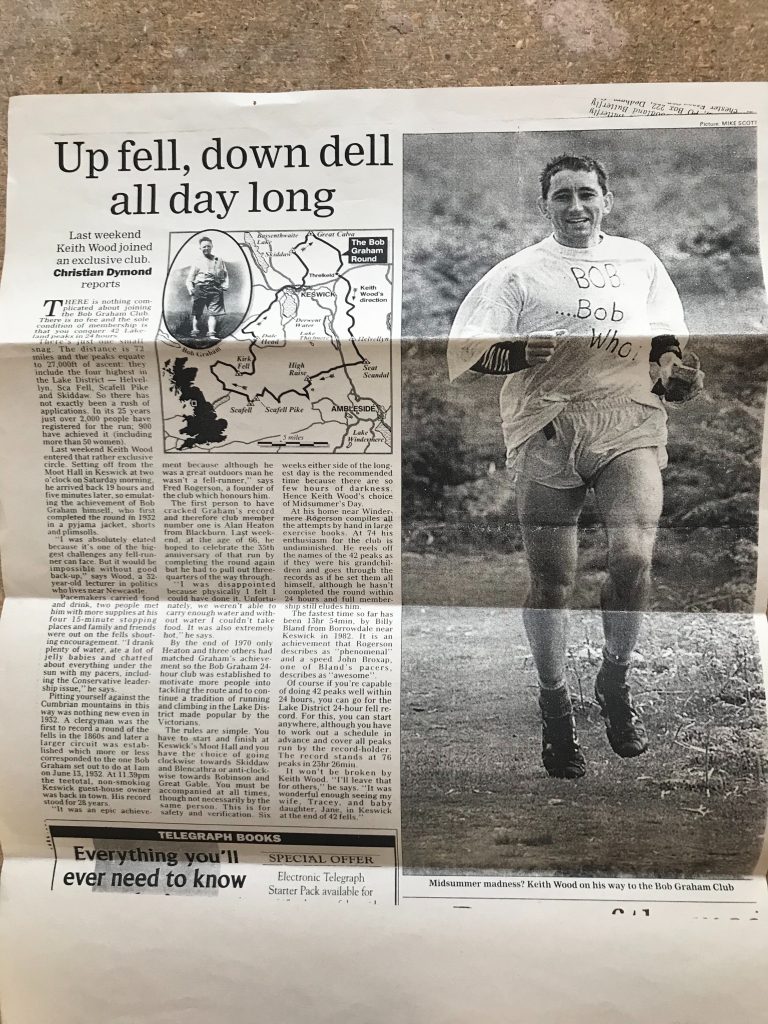 Saturday June 24th 1995, 2.00am, was the start time for my Bob Graham attempt. The weather forecast was for a very hot weekend and the warm air of Keswick in the early hours was reminiscent of a Mediterranean resort. With the countdown to 2am being administered by the drivers of the support crew, Paul Smith and Glen Lowery, and Angus Tait of Tynedale Harriers who would add whatever support he could up on the fells. Fellow club runner Richard Townsend who was also making an attempt and I, set off from the Moot Hall in our clockwise attempt at precisely 2.00am.
The conditions on the first part of the ascent were perfect. Keswick looked delightful as its lights dazzled in the warm night's air. However, as we skirted Lower Man, the light breeze turned into a gale and the cloudless sky had suddenly become overcast, visibility came down to 20 meters. Has Skiddaw ever been a nice place to visit?
We were both running the first section without pacers, though we were guided to Skiddaw summit by Pete Wilkinson's torch light, who was waiting with drinks and jelly babies. With Skiddaw reached within 64 minutes the torch light of Dave Gilthorpe added assistance onto cloud drenched Great Calva. Ascending Blencathra I had opened up a considerable gap between Richard and myself. We had agreed that as both attempts were individual, there would be no onus on either one of us to wait for the other. Richard's attempt became a valiant effort, as his only support for the rest of the round was on various summit's and road crossings. Sadly the 4th section began to eat into what little reserve he has left, and he eventually retired at Honister.
The descent of Hails Ridge was very slippery and with a North East wind whipping the edge, caution controlled the speed of the descent, but I still managed to reach Threlkeld exactly on schedule, at 5am. Ken Chapman, a Scottish International X-Country runner, paced the section over The Dodds and the Helvellyn range, which was completed in horrendous conditions, but still within 1 ½ hours of schedule, despite descending the wrong slope of Great Dodd and taking 49 minutes to reach Watson Dodd. The descent of Seat Sandle brought renewed optimism as the route to Scafell was blessed with sunlight and patchy cloud. It was a pleasure to reach Dunmail after the previous 7 hours. My full support crew were assembled and I was also greeted by the photographer from the Daily Telegraph, who had chosen myself to feature in their article about the Bob Graham round. A quick wash (with hot water), leg massage, a rice pudding, a drink, and we were soon ascending Steel Fell, with the photographer. Poor chap, he just couldn't keep up and he took Fred Smith's advice to return and meet us on Broad Stand.
Dunmail to Wasdale was most enjoyable. The weather was fine and I was being paced by a companion of over 20 years, whom I shared many a mile with over fell, road and various avenues of life. Fred ensured photo opportunities were exploited, thus ensuring ample rest periods, which would, in time, assist in maintaining the excellent pace I was making. Broad Stand was reached at 1.30pm, well ahead of schedule, where the Daily Telegraph photographer was waiting with the lens at the ready, and Stephen Millen had prepared a climbing rope for the ascent of Broad Stand in case of adverse conditions. Tiredness willed me to use the rope even though the sun was now cracking he rock. I was soon descending into Wasdale with 12 peaks left to go feeling good and grateful for such wonderful friends who were making this such a great experience.
The support crew were also enjoying themselves, our early arrival caught then basking in the sun at Wasdale Head. Another wash, clean socks and the top of Yewbarrow was conquered in 34 minutes. Phil Wilson, who made such a successful attempt 2 years previously, was ensuring my regular intake of water, High Five and Jelly Babies was maintained during the fourth section. Red Pike and Steeple were quickly disposed of, and I was soon on Pillar, looking out at Blencathra, which had now shaken off the cloud which had encapsulated it earlier.
In the Borrowdale Fell Race, Great Gable decides your fate, in this classic race. Rising from Styhead Tarn there is no easy way to its summit. Surely ascending from the saddle between Kirk Fell would be so much easier. However, psychologically I had failed to conquer Great Gable in my mind. From the outset the ascent was to prove a pure test of my endurance and required me to call in whatever reserve I had left. "Half way to the summit, it must be," I thought. My legs demanded a rest. Head supported by arm and rock I feel my body telling me to sleep. The beat of my heart is like the hypnotic trance willing me to sleep in the quietness of the fells. "Sleep Keith, just sleep 10 minutes and you'll be okay." The dream is disturbed through the offer of a Jelly Baby. How could I refuse! My 30 second rest is terminated and the mind activated, pulling my body up the ancient rock to the summit, scattered with early evening walkers, who have the luxury to rest a while. Not I – Honister beckons. With Great Gable captured, an intake of carbohydrate drink generates the fire again as we descend towards Green Gable, Brandreth and Grey Knots.
One bit of advice I was given was to enjoy my Bob Graham day, and this had been my intended purpose throughout. To assist this objective, I had decided to amuse myself, and hopefully my companions, by changing into a T-Shirt with a message relevant to the day, (i.e "BOB, Bob Who?"), (Fellrunners hate bonking"). On the original round it is reported that Bob Graham wore a pyjama top, so like-wise the descent into Honister was made in a 'borrowed' pyjama top.
At Honister, I was met for the first time that day by my wife Tracey and baby daughter Jane. There was little time for embraces, priority was a massage and some light refreshment. However, the body was reacting to sudden lack of movement, I began to feel dizzy and felt the best course of action was to get moving up Dale Head. Fred Smith was again pacing this section in the absence of Phil Bellamy and Phil James who arrived just after we had left. My 2 hours ahead of schedule had caught them out. The last three peaks were in the bag within the next hour. However, the descent of Robinson was rather an enduring experience for my shins, which had become very sore, and each step of the descent was eating away at an enjoyable day.
Little Town and the Newlands Valley now greeted us. A pit-stop change into road shoes and club colours pushed the pain of my shins into history. Phil Wilson had now joined us and I was escorted towards Keswick. The pace was unbelievable, with only a sensible walk up past Swindale Inn to slow us down. The adrenaline was beginning to take over.
Keswick High Street, which patiently waits for all those who take up this challenge, soon greeted us, and suddenly I was off. I had often thought what it would be like coming up that street. "Would the mind be wanting to sprint, and the body rejecting any challenge to its physical state, or what?"
Well, "what" prevailed. Where the power in my legs came from I doubt I will ever know. I sped past the evening revellers at 9.05pm to be greeted with the applause from some of the greatest people you could wish to meet and that Black Door of the Moot Hall.
Huge and Kisses from my wife Tracey and daughter Jane, whom without their support this could not have been possible. Shared emotions from all those supported, a very enjoyable day and celebrated a successful Bob Graham round of 19 hours 5 minutes with some cheap French beer.
Thanks to:
Phil Bellamy, Ken Chapman, Finton Clark, Donald Cooper, Dave Gilthorpe, Daniel Henderson, Phil James, Glen Lowery, Stephen Millen (Satch), Paul Revill, Fred Smith, Linda Smith, Paul Smith, Angus Tait, Richard Townsend, Pete Wilkinson, Phil Wilson, Wyn and Arthur Wood, Tracey and Jane Wood
Without such help this attempt could not have been achieved.