North Eastern Counties Cross-country silver medalist Calum Johnson switched his attention to the roads and produced a superb performance to win Saltwell Harriers Ronnie Walker 10k. The Gateshead athlete made his Saltwell Park debut a winning one in England's oldest established road race and while it was a first for Johnson the women's race was won by Olympian and World 30 kilometre record holder Alyson Dixon for an astonishing sixth time.
Johnson, who has made his name as a powerful international tri-athlete, showed no signs of weariness after his exertions over a tough 12k terrain at Alnwick the previous weekend and immediately headed the 500-strong field which faced three circuits of the famous Tyneside landmark.
At the completion of the first twisting 3k lap Johnson already had a 50 metre lead over a trio of Liam Taylor (Sunderland), Gateshead team-mate Conrad Franks and Houghton's London-based Cameron Allen.
Johnson went on to double the advantage on the second circuit with the chasing pack still locked together though now vying for the minor honours.
With one eye on the course record – 30min 57secs set by Ryan McLeod – the leader upped the tempo even more in the run for home, however, rounding the lake for the final time towards the finish and though he crossed the line over a minute clear of his rivals the clock was ticking away and he fell agonisingly short of the bonus award by a matter of just eight seconds.
It was a brave attempt by Johnson who, nonetheless, was overjoyed with his performance and after collecting his winner's cheque said: "I knew I was in decent shape despite being short of races and while I have run sub 30 for 10k before this course was entirely different with all the twists and turns and the testing hill each time round so it wasn't too big a surprise that I missed out on the record.
"Nevertheless, I'm happy to win at my first attempt for I know there has been some very good runners in the past who have won the famous race. The win sets me up nicely for the big cross-country races early next year."
The race to claim the runners-up spot didn't unfold until midway through the final lap and it was Allan who proved the strongest pulling away to not only claim second place but also push a number of more seasoned senior athletes in his wake.
Franks, a recent Masters cross-country international used his accustomed sprint finish to complete the one-two-three and push Taylor back into fourth spot.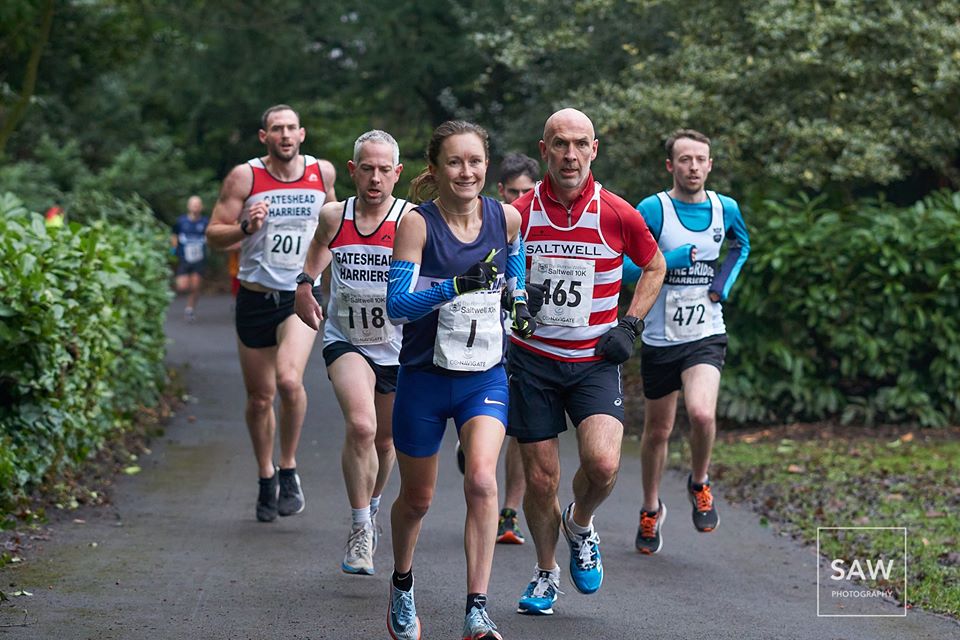 Meanwhile, while Johnson had over a minute in hand to win the men's contest Alyson Dixon had opened up an even greater distance to take the honours in the women's race.
The Wearsider, who finished in 21st place overall, stamped her authority on proceedings from the off and was never headed as she came home over two minutes ahead of Elswick's Amy Fuller with back-to-form Judith Nutt, also of Elswick, coming home in third place.
Dixon's winning time of 36:38 never troubled the course record of Durham City's Rosie Smith and she admitted later that the inclines seemed to be much steeper this time round!
*Local company Go-Navigate, Independent Mortgage Advisors, were major supporters of the Saltwell 10k.
Leading Finishers
Men: 1 C Johnson (Gates) 31:05; 2 C Allan (Hough) 32:15; 3 C Franks (Gates) 32:23; 4 L Taylor (Sund) 32:54; 5 S Jackson (Elvet) 32:59; 6 R Holt (Tyne Br) 33:35; 7 J McKenzie (Heat) 33:40; 8 G Wallace (BhillBnds) 34:23; 9 T Goulding (Birt) 34:26; 10 S Rankin (Sund) 34:39. Team: Gateshead.
Women: 1 A Dixon (SundStr) 36:38; 2 A Fuller (Elsw) 38:58; 3 J Nutt (Elsw) 39:53; 4 K Stevenson (TyneBr) 40:48; 5 L Cheetham (JesJog) 41:45; 6 S Marr (TyneBr) 42:05; 7 M Armstrong (Tyned) 42:11; 8 R Adamson (TyneBr) 42:24; 9 C Lee (Elsw) 43:09; 10 S Moffatt (Gosf) 43:26. Team: Elswick.