As I sat in my car queuing to get into the Lambton Estate, I began mentally preparing for my first Cross Country event since the 1998 Durham Counties U15s boys event. I arrived at the decision not to employ the same tactics I did back then, resulting in me walking half the way round the course holding a stitch. I would approach the NEHL much more sensibly…
After parking up, it was a great spectacle to see all the club tents before seeking out the only colours that matter, red and white – I quickly left the Elswick Harriers tent upon realising I didn't recognise anyone.
There was plenty of action around the Saltwell tent with a real feeling of camaraderie, there were unfamiliar faces introducing themselves, Graham Stephenson standing proudly on a boulder allegedly overseeing childcare duties and Craig Swanson arriving with hand luggage having just stepped off the 10.42 from King's Cross. Phil James introduced himself as one of the dinosaurs and then nodded towards Peter Mularkey who was drinking tea from a Thermos – bit harsh.
The Senior Women's was due to start, so we went down to cheer everyone on, which quickly gave me a sense of the carnage ahead, as there was plenty of jostling and mud being kicked about. We then headed back to prepare for the Men's event.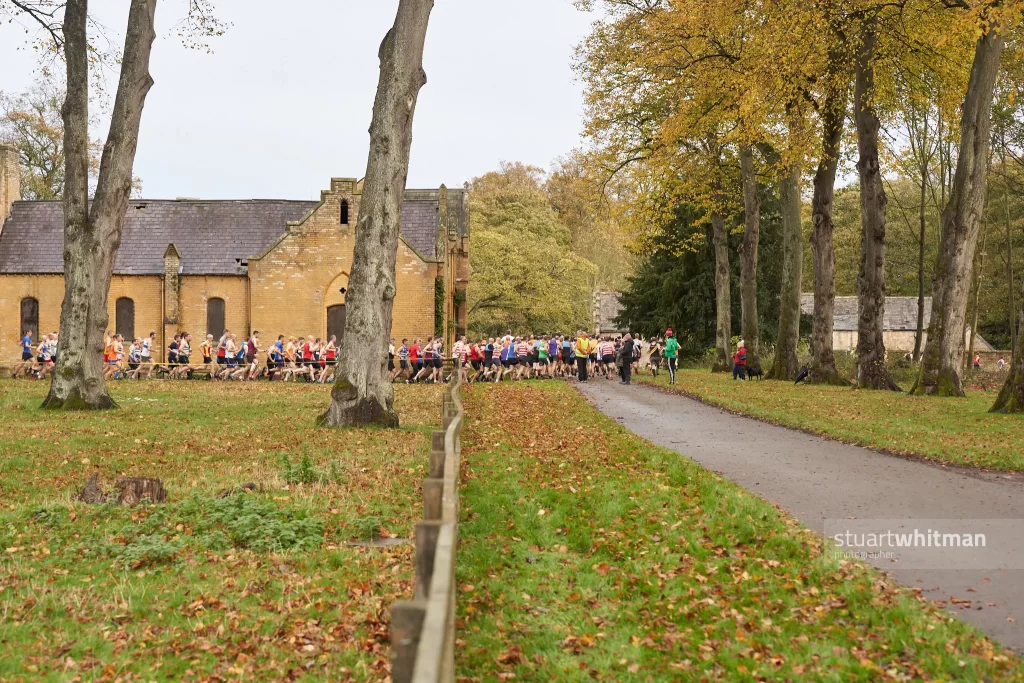 With about 5mins to go everyone was stripped off and ready to head to the start line, (except Peter who was still in his tracksuit, his wellies and pouring himself another tea). As we funneled into the starting pen I felt the race nerves start to buzz and was feeling good…. BANG – we're off. Everyone was hurtling across the flat with a bit of pushing and shoving, when suddenly as we approach the first corner someone shouted "CONE!" It was too late, two, maybe three people fell onto the floor and runners just hurdled, stepped on or somersaulted over them. The feeling of camaraderie was in jeopardy. I put the accelerator down and pushed on.
All the pre-race info had stated the race was just shy of 6 miles, but after hurtling down some slopes and scaling two huge hills for lap one it was abundantly clear this was not quite the case. I won't lie at the two mile mark, I was already stressed about the 2 further laps ahead of me.
By lap 2 the course was really muddy and I was still enjoying throwing myself down them with no consideration for personal safety, but if I'm honest that's all I was enjoying. However, I was now starting to see more red and white hoops and was were sharing encouragement/gallows humour, it does make a difference!
---
---
Heading into the last lap, all I could do was think about the hills ahead, I tried slowing down to compensate for them, but having already blown a gasket at the start, I was grinding to a halt. I got half way up the first hill and ended up walking, I wasn't the only one. The same went for the last hill, I was beat, the course had won. I mustered the strength for a "sprint" finish, but it was quickly followed up by a lie down in the recovery position in the car park.
Shoes off and a trudge back to the Saltwell tent and was welcomed back by a group of shattered teammates. Janis immediately offered me a delicious looking orange cupcake, but I wasn't in that place yet, somebody else pushed some rocky road into my hand (couldn't say who I was still in a daze) and Dave Hewer pulled out a box of homemade donuts – what is it with you people and confectionary?! I eventually pulled myself round and gratefully accepted a can of Pepsi from Janis, whilst dissecting the race with Rav, Jon and Nicola – we concluded that despite the fact I loathed almost all of the race, I will actually do it again. Maybe next time I will learn my lesson from 1998.
Barry Huitson
Photos by Stuart Whitman Photography