I don't know when it started. Probably at some point on Thursday afternoon. Certainly by Friday morning I had well and truly got my classic pre-race stomach ache. More excitement than nerves but if I had a choice in the matter, I'd happily forego this inevitable ritual.
I imagine most people don't really think about a cross country race until that morning, while they unearth their agricultural spikes. Not this race, and not for me. My mind had been whirring ever since James ran through the results in the car, on the way home from the penultimate fixture at Thornley Hall Farm.
After that meet, the Saltwell men's team had found themselves just four points short of the last remaining promotion spot to the Harrier League First Division. And as if that didn't leave enough resting on the final fixture, the ladies were in five-way fight to avoid relegation.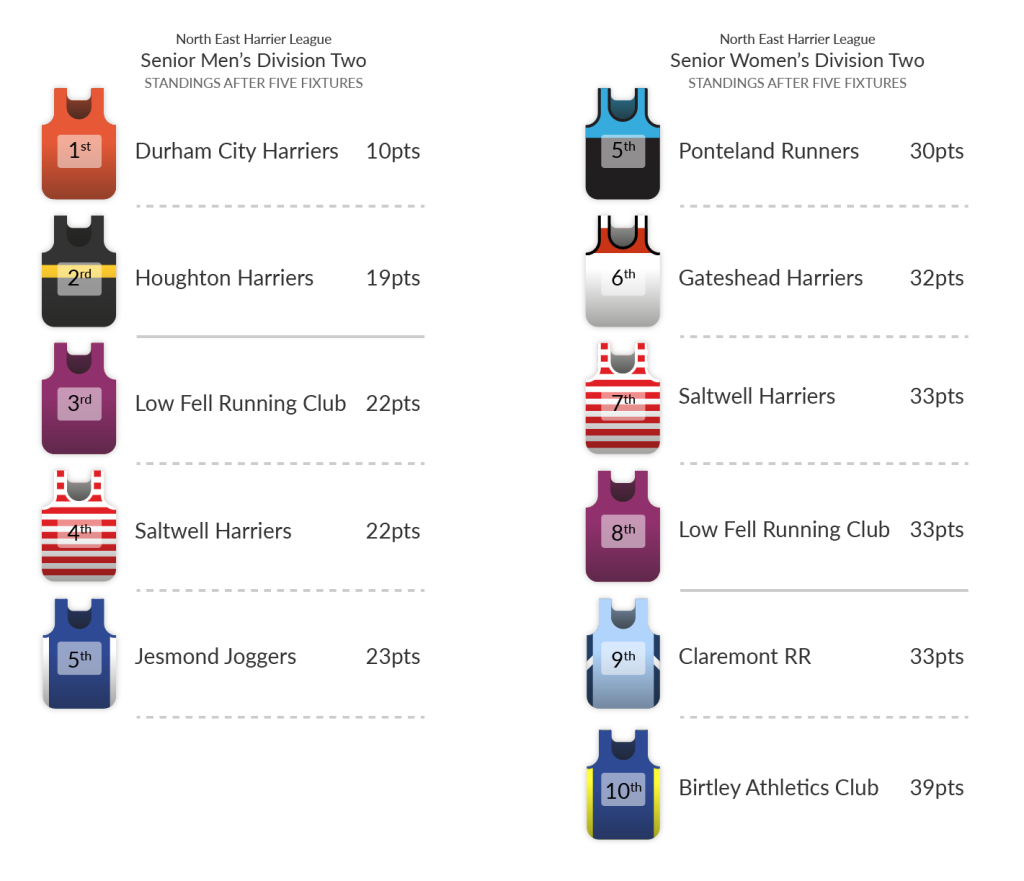 Back in 2019 the men's team went to Alnwick needing a competitive last result to pull ourselves out of the bottom two and avoid being pushed down to the third division. We rallied the troops, had a strong team turnout and ran well but it wasn't enough. I remember standing outside the tent as the results came through and feeling such a sense of dismay. We lost the fixture and came bottom of the second division.
As I drove back up to Alnwick this time I kept on thinking back to that fateful year. Again, the team looked strong on paper, but would the same sense of disappointment follow? And yet this season had been different for the men's team. For the first time in my short XC career we actually had a shot at promotion to the top division — something that Saltwell hasn't achieved for over twenty years.
It would be far from easy though. Durham City Harriers were well clear at the top of the league and had been untouchable in the last three fixtures. They were surely bound to win again at Alnwick. That would leave us scrapping with Hougton (3 points ahead of us), Low Fell (level on points) and Jesmond (one point behind) for second place on the day and second place overall.
Saturday arrived. Cool, overcast and still — perfect running conditions. The call had gone out right the way across the club membership and the call was answered. Forty five runners across both teams turned up. Even those who were injured made the journey up the A1 to cheer us on our way.
The spikes-or-trails debate is almost a religious rite before every XC event but this one was particularly heated — almost reaching Lambton levels of consternation. Eventually everyone had made their choice, based reports from earlier races, what they had brought, the strength of the arguments made or whichever way their lucky coin had landed.
As always, the ladies race was up first and our valiant team did the red and white hoops proud. Rising star Joanna McNeil led the way, overcoming her medium pack handicap to finish 15th place overall. The three further counters came flying through and the ladies team had done enough, just — surviving relegation by a single point!
In the meantime the blokes had been doing the classically awkward combination of cheering on the ladies from the sidelines while simultaneously attempting warm-up drills. I headed off to try and get a very short jog in, during which I convinced myself that my legs already felt shot and it would probably be better to head home now. However, before I got time for that the five-minute call went out and we gathered into the holding pen of nervous anticipation.
The Saltwell blokes squashed in together. Much back-slapping and further quotes from Gladiator ensued. I looked Paul Smith in the eyes and told him this was a longer course and he mustn't start out too fast. The gun went and Paul shot off like he was chasing a hare.
I'm very pleased to say, that I didn't see him again — and that was because he ran a blinder — along with Barry and Aaron, all three of which got themselves the dubious reward of being promoted to the medium pack.
As has been the case through almost every fixture this season, we again had a tight group of six counters coming across the line. This time we were all within the first 75 finishers overall (and the top 21 in the division). But the counters are only ever half the picture of a club's performance. Every Saltwell finish matters and every Saltwell runner matters — not simply mathematically but for the unquantifiable accumulation of team spirit.
Each cross country runner's race is a story. Some are heroic, some tragic and they almost always involve comedy. From a personal perspective the best part of Saturday's story was knowing there was always a Hoop chasing me down and one just up ahead I was trying to catch. I've never known a cross country race felt like it typified a team effort more.
As each Saltwell runner surged and collapsed across the line we gathered together congratulating each individual performance. But would team congratulations be in order? "I didn't see anyone!" muttered Mr Huitson — presumably in specific reference to the other teams we were fighting for promotion against and not a general statement of blindness.
We stumbled back to the tent knowing that we'd given everything but not knowing if that had been enough. As people changed back into warmer clothing at varying levels of speed and skill, thoughts turned to checking what the live results were. Club Captain and sworn 'I-hate-hills' runner Rico was straight on the case and had his phone out.
Harrier League > Results > 2022/23 > Senior Men… scroll down…. scroll down…
"We won the fixture!"
"What?!" I spluttered out with the control of involuntary groin cramp. "And what does that mean for the league standings? WHAT ABOUT THE LEAGUE?!"
The league standings are never updated instantly and so what followed were pained expressions as we tried to calculate how the rest of the teams in the promotion battle had done in the fixture. As we went through each one, we realised that each was coming out worse than Saltwell (with the exception of Durham who were always going to win the league).
"We've done it! Lads — we've been promoted!"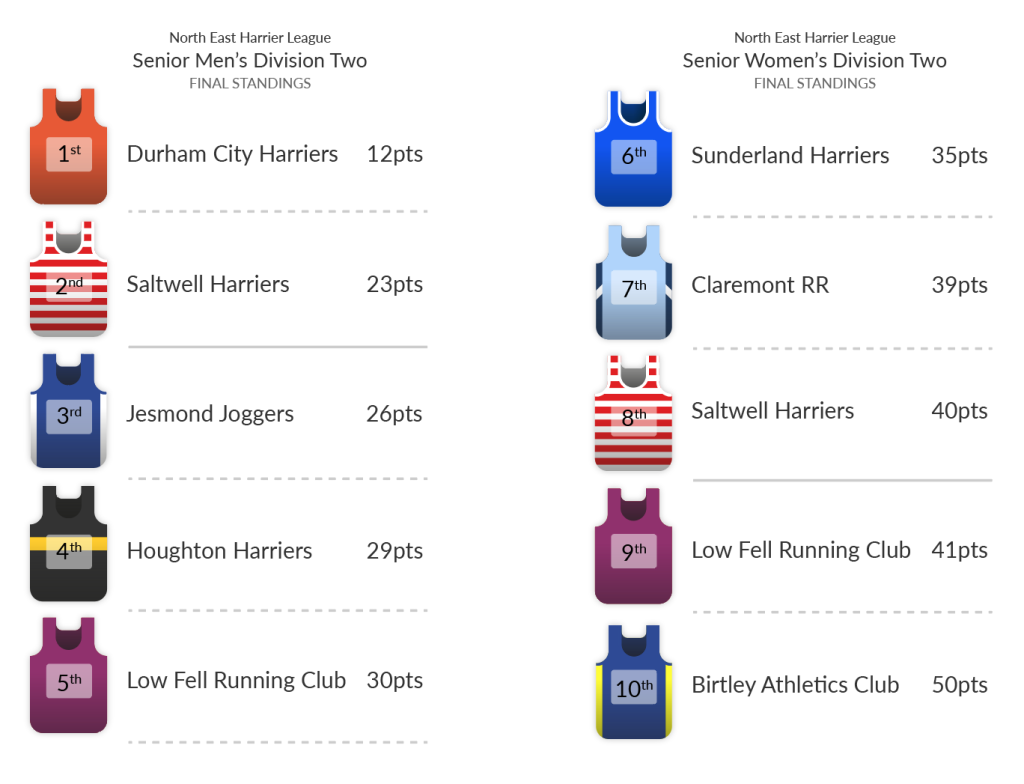 Some hours later a good handful of us were gathered in the Black Horse. The day's story of each run was told. The season as a whole was debriefed with gusto and pride. It struck me that many people run in order to achieve PBs or for personal achievements, but that kind of thinking couldn't be further from characterising the Saltwell 22/23 cross country season. It had been a glorious season of success and that was thanks to every single person who had ran in any of the six fixtures. Each one deserves credit and recognition, and to that end, they're all listed below.
It's fair to say that by Saturday evening my stomach ache was well and truly gone. It had been replaced by an enormous sense of pride in the club's achievements from the day — a feeling that wouldn't be passing in a few days.
Dave Hewer
Select photos by Stuart Whitman Photography
Saltwell XC Team 2022/23
Aaron Fletcher
Alex Ramshaw
Alex Roberts
Amy Gallagher
Andrew Armin
Andrew Softly
Andy Ross
Barry Huitson
Barry Ord
Becky Jones
Bill Wilson
Carolyne Hargreaves
Catherine Vicarage
Charlie Adams
Claire Lloyd
David Hewer
David Todd
Dominic Martin
Eleanor Parker
Fred Smith
Gill Lawson
Graham Harrison
Graham Stephenson
Iain Armstrong
Iain Summers
James Gilbert
James Young
Jim Thompson
Joanna McNeill
John Clarke
Jonathan Merton
Jonathon Conlon
Judith Sponton
Julie Schneider
Lisa Elstob
Lisa Perry
Lisa Young
Lois Lincoln
Lou Thorpe
Lydia House
Lyndsey Stephenson
Lynn Bolden
Matt O'Brien
Matthew Thirlaway
Michael Gifford
Michelle Connelly
Michelle Masson
Mike Lowes
Nicola Dyson
Nicola Whitman
Oisin Kavanagh
Paul Richardson
Paul Smith
Peter Mullarkey
Phil James
Riccardo Antico
Rob Brooks
Roderick Stuart
Rosemarie Reynolds
Sam Bruce
Sam Harrison
Sarah McKnight
Scott Garrett
Simon Long
Sophia Daoudi-Simison
Sue Odonovan
Susan Lowes
Vicky Cuthbertson