Brough Law Fell Race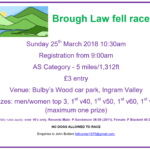 This Sunday (25th March) see's the first race in this years Fell Race Series at Brough Law. It is a great race and a good introduction to Fell Running.
To participate in the series men are to complete 4 races – short, medium & long plus another.

Best position to count. Women to do 4 races
Haworth Hobble aka the Wuthering Hike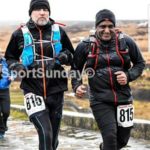 Naz – "Phil, what shall we do in March?"
Me – "Well I've got to get a long one in sometime, it's in my 'marathon plan' for Manchester. What do you reckon?" "I know, let's do the Hobble, it's a 32 miler in Bronte country. I did it back in the day and
Keiths Joss Naylor Report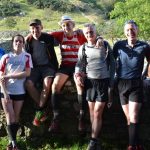 Whilst supporting an aspiring Bob Graham member he asked me, 'if you were feeling fit, how long do you think you would take to complete a Bob Graham Round now?' I mulled over the question for a brief moment, conscious that I didn't want to lessen our pace as we headed towards High Raise. The
Temple Newsham Race Report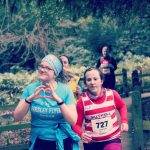 I had signed up for this race at the end of 2017 as it sounded like an interesting challenge. I was glad I did as it sold out fairly quickly.

The Saturday before the race was exactly the most ideal race preparation. A full day at work followed by a family birthday/get together meant that
Saltwell 10k Race Report 2017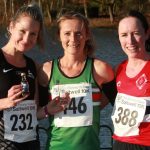 ABRAHAM TEWELDE had to pull out all the stops to retain his Ronnie Walker 10k road race title over a testing three-lap course in and around the outskirts of Saltwell Park.

The Saltwell Harrier just made it to the start line in time to defend his crown seconds before the near-500 strong field, who had observed
10k Road Race 2017

The date for this years Ronnie Walker 10k Road Race is Saturday 23rd December starting at 11.30am.

The race has reached its entry limit. No more entries will be taken.

If existing entrants would like to transfer their number to another runner, please send an email to 'woodk2@btopenworld.com' stating the name and DoB of existing runner, the
The Big Apple – 7 years in the making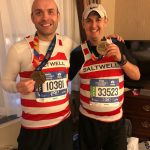 The start

5am and the alarm goes off, what the hell am I doing is my first thought. True to form all my gear had been laid out the night before, at this ungodly hour I want to have the minimum of fuss, so a quick toilet break and change and myself and Woody set